Food Programs
FIRST BITE BREAKFAST
Operates daily from 8:00am to 10:00am
At Knights Table, First Bite is all about developing intentional relationships– meeting people where they are. We initiate caring conversation with those in need, earn their trust through action and meet clients' practical needs
Our First Bite Program recognizes everyone's need to start off the day with a healthy meal. We provide our clients with a nutritious breakfast free of charge.
KIDS BREAKFAST CLUB
Operates daily from 7:00am to 8:30am
Helps to build and foster healthy eating habits (improves focus and ability to learn), introduce children to a variety of foods, while improving community/social engagement.

SENIORS CAFÉ
Operates Mon-Fri from 8:30am to 10:00am
Seniors Café helps build and foster healthy eating habits with seniors and improve social isolation. After breakfast, seniors are engaged in light physical, stretches and exercise; music therapy.
CECIL'S KITCHEN
Operates from 12:00pm to 6:00pm on week days and 12:00pm to 4:00pm on weekends and holidays.
In partnership with big hearted individuals like you, Knights Table cares for some of Brampton's poorest men, women and children. Many are homeless, many are battling addictions, and all of them are hungry.
Three times a day, 365 days a year, hungry people with no where else to turn know they can always come to Knights Table for a nourishing meal.
At every Knights Table meal, guests are given a warm welcome. Many of them live on the streets, so when they come inside and are greeted with a kind smile, and a home-cooked meal, it's the first step in helping them regain their dignity.
Often it is through a meal that struggling men and women first access Knights Table's other life-changing programs.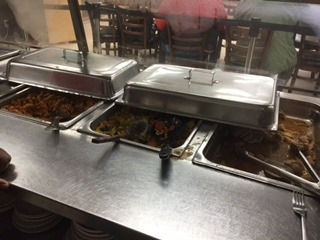 OUR PANTRY – FOOD BANK
Operates Wednesday to Friday from 10:00am to 4:00pm.
Closed on weekends.
Registrations for food bank take place each Monday from 12:00pm – 3:00pm.
We have over 1800 individuals and families in our Pantry Program. To ensure that the people on the program are in need, an application process must be conducted and approved which involves valid identification, a home address and proof of income.
Once approved, the recipients can come in on Wednesday, Thursday or Friday between noon and 4 p.m. for food supplies. Specific requests for items are usually made and if those items are on the shelves a week's supply will be given out. Approved recipients are able to collect one week's worth of groceries once a week.
As the food is given out weekly, even perishable food (fresh fruits & vegetables) can be donated as it will be given to people in need before it spoils.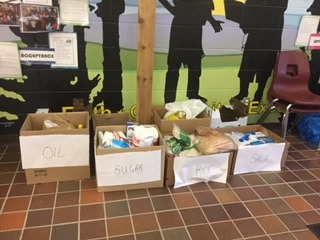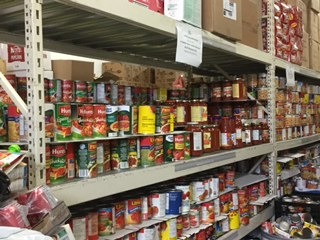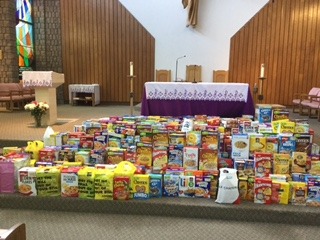 HOLIDAY HAMPERS
Many families cannot afford much of what we take for granted during the holidays — toys, treats, a pantry full of food and warm winter clothing. Each year, with the help of donors and volunteers Knights Table prepare hundreds of hampers filled with the delights and necessities that make the season magical for families in need. Parents receive gifts for their children 14 years and under from toy drive donations.
REGISTRATIONS END DECEMBER 7, 2020.

GOOD NEIGHBOUR – BREAD AND BAKED GOODS
Operates Mon-Fri from 8:00am to 10:00am & 12:00pm to 6:00pm;
Weekends/Holidays 8:00am to 10:00am & 12:00pm to 4:00pm.
The Good Neighbour Programs are supported by the generous donations of baked goods from Fortinos and Costco!
Good Neighbour Bread and Baked Goods program is solely supported by the goodwill of our volunteers and the bakeries of local grocery stores.
Every morning, donated bread and baked goods are available at Knights Table for clients to access free of charge.
GOOD NEIGHBOUR – MOBILE
Operates Mon-Fri from 8:00am to 10:00am & 12:00pm to 6:00pm;
Weekends/Holidays 8:00am to 10:00am & 12:00pm to 4:00pm.
Mobile service of bread, desserts, baked goods, and food supplies are delivered to vulnerable seniors, and low income families in high needs neighbourhoods in the community.
Call 905-454-8725 to find out how to be a part of our Good Neighbour program
GOOD NEIGHBOUR – MOBILE SENIORS PROGRAM
As a response to the COVID-19 health crisis, The Good Neighbour Mobile Seniors Program addresses the struggle of hundreds of low-income vulnerable seniors who are food insecure and lack access to healthy food and adequate nutrition on a daily basis.
The Good Neighbour Mobile Seniors Program support seniors with the daily delivery of hot meals and weekly food hampers.
Click here to learn more.
Call 905-454-8725 to find out how to be a part of our Good Neighbour program